Packages & Pricing
Micro-Needling
You Deserve it!
Plumping Anti-Aging Effect
What is Micro-Needling?
Microneedling is a type of treatment that uses small needles to cause tiny punctures in the skin. These small contact points cause your body to create a wound healing response and renew your skin cells. As your skin repairs, the production of collagen and elastin is triggered to result in an almost immediate plumping, anti-aging effect. It can also help tackle other skin damage such as scarring, dark marks, sun damage and ageing.
You may also hear micro-needling referred to as skin needling or collagen induction therapy,
Benefits of Micro-needling
Microneedling is most commonly used to treat the following skin conditions:
Dull skin: If you suffer with dull skin, micro-needling can rejuvenate and combat the initial signs of ageing.
Wrinkles: Your facial fine lines and wrinkles can be visibly reduced, since microneedling triggers collagen production.
Scarring Reduction: If you suffer with scars from acne and Chicken Pox, these can be improved. An uneven skin texture can be smoothed out with microneedling.
Pigmentation: If you have any dark patches such as pigmentation due to sun damage or ageing, micro-needling can help fade these.
Microneedling is a great treatment for you if you have darker skin because it doesn't involve peels or lasers, which can cause pigmentation issues. 
You may also consider combining this treatment with Dermaplaning.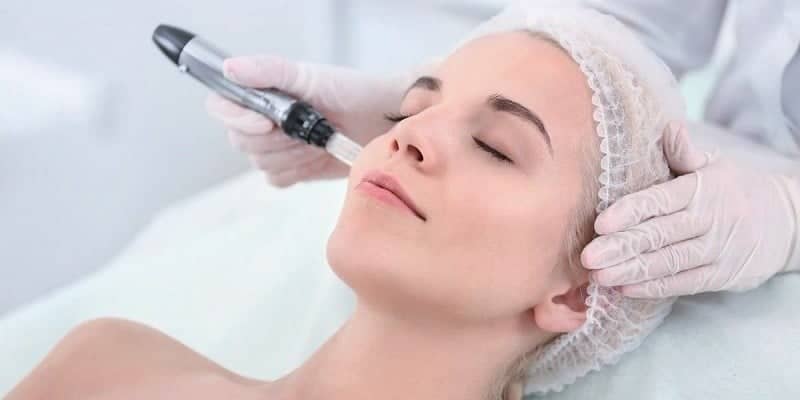 1 Session
Essential Micro-Needling Treatment lasting approximately 45 mins
Micro-Needling + Dermaplaning Package
Book yourself in for our combination package
Micro-Needling
Frequently ASKED QUESTIONS
What is involved in a Micro-Needling Treatment?
We use a Microneedling Pen to perform your treatment.  This is a unique electronic mechanism which allows us to control treatment intensity to best suit your needs. A solution is also applied to the skin, containing hyaluronic acid, minerals, vitamins and peptides. This stimulates cell proliferation and so reduces the skin's contours and improves elasticity. The microneedling pen treatment is targeted and ideal for clients who have localised areas of concern.
Is Micro-Needling painful?
Micro-Needling willfeel much like vibration on the skin.  Depending on the needle depth chosen, you may experience a little discomfort, but not enough to need any anaesthetic.  Your specific needs and the depth of the needle will all be part of your consultation.  Don't worry, you're in safe hands.
Are there any side-effects to Micro-Needling?
A thorough consultation is given to ensure you do not have any contraindications to treatments, such as certain medications, diseases or disorders.  
Side effects are minimal but can include mild shedding, looking slightly sunburned and in some very rare cases light bruising, but these usually fade within 24-48 hours, if not a few hours.
Your treated skin should not be exposed to the sun, tanning bed, heat, hot water or sauna for 5-7 days. It is extremely important to protect your skin with at least SPF 30 at all times. 
How does Micro-Needling compare to Laser Rejuvenation?
Micro-needling stimulates the collagen and elastins as does laser resurfacing, but without the risk of injury or damage to the epidermis. It is also much more economical and long lasting.
Mansfield | Rainworth | Mansfield Woodhouse | Berry Hill | Kings Walk | Oakham | Lindhurst | Ravenshead | Sutton | Ashfield | Nottingham
It's Going to be Perfect!
Let's get you booked in